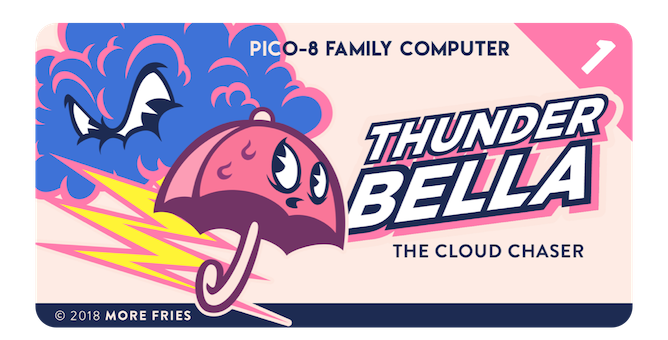 Thunder Bella the Cloud Chaser
Comments
Log in with itch.io to leave a comment.
Charming, awesome, and terrifying!

Really great how there is intimacy and personality to the boss!

Great job!
What an addicting game. Too bad I didn't beat it till after the recorder was off...haha.
Shoot, this is really neat! I haven't seen many games make such good use of PICO-8 as this. Love the sticker looking art too.
I like the game, would recommend changing the enemy life to a lifebar, making it obvious that you have to hit the enemy 50 times make it a little frustrating! still 5 stars
Thanks! Good point, agree, a lifebar would be nicer. I took the easy route on this one. Mainly because my code is leaning towards the spaghetti type and I didn't want the mess around with it to much :).
I love the art, the game looks gorgeous and I love the idea of being an umbrella fighting the weather!
The gameplay is overwhelming (I died very quickly!) but in an enjoyable way.
Thank you! Yes, it turned out quite hard. The fine tuning part took much more time than I expected.
As of writing I haven't played the game yet but I already know its going to be so fun!
Played this on my channel!
Thanks! Nice channel, you play like a pro :).